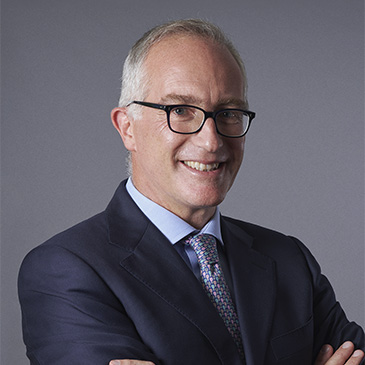 Summary
Position: Partner
Main activities: Partner in charge of the Regulatory rights department (and in charge of the Energy department and jointly in charge of the litigation department)
Address: Via Visconti di Modrone 12, 20122 Milano
Email: antonio.papi.rossi@ammlex.it
Telephone: +39 026208161
Fax: +39 0262087927
Partner
Antonio Papi Rossi graduated with 110/110 in Giustizia Costituzionale (prof. Valerio Onida) and is a cassation lawyer, with extensive experience in litigation before the Administrative Judge (TAR and Consiglio di Stato), before the ordinary Judge (Tribunals, Appellate Courts and Court of Cassation) and the Court of auditors.
Antonio Papi Rossi has been a councillor of the Milan Bar Association, coordinator of Commissione di giustizia amministrativa with the Bar Association and member of Commissione di Giustizia Amminstrativa with the CNF since 2019.
He has an extensive expertise in the field of public procurement and regulatory subjects (independent authorities, supervision authorities, antitrust authorities). He also deals with the fields of (traditional and renewable) energy, environment and integrated water service, by following both the Sector Authority (ARERA) and litigation proceedings.
His experience also extends to real estate transactions, with regard to planning-building and contractual aspects.
He is of counsel of Greenberg Traurig LLPP with regard to administrative and EU litigation.
Professional Experience
2014-ongoing Partner AMMLEX - Amministrativisti Associati Studio Legale
Partner jointly in charge of procurement, litigation and regulatory rights.
2005-2013 Partner Santa Maria Studio Legale Associato
Partner in charge of the Regulatory sector (pharmaceutical and telecommunications) and in charge of Litigation (procurement)
2003-2005 Senior Associate Orrick, Herrington & Sutcliffe
Administrative law department – Litigation (procurement, authorizations)
Education
Antonio Papi Rossi is a member of the Milan Bar and is authorised to practice law with the higher courts.
He graduated at the university of Milan in Giustizia Costituzionale (Prof. Valerio Onida), with a dissertation on "sentenze additive" of Corte Costituzionale, he was a member of prestigious law firms: Pavia e Ansaldo (1998-2001), Studio Legale Tributario with Ernst & Young (2001 - 2003), Orrick Herrington and Sutcliffe (2003 - 2006), and was a partner of the firm of prof. Alberto Santa Maria (2006 - 2014), before his current work experience.

2012 Cassation Lawyer
Registration with the register of Lawyers with the Milan Bar Association – Section of cassation lawyers
1998 Lawyer
Registration with the register of Lawyers with the Milan Bar Association
1993 Degree in Law with a 110/110 mark - Università Statale degli Studi di Milano
Memberships
Councillor of the Milan Bar Association with proxy with regard to Giustizia amministrativa
President of Commissione di giustizia amministrativa with the Milan Bar Association
Member of the giustizia amministrativa panel with Consiglio Nazionale Forense
Councillor of Commissione Affari Economici della Diocesi (CAED)
Società Lombarda Avvocati Amministrativisti – SOLOM
Associazione Giudici Amministrativi Tedeschi Italiani e Francesi – AGATIF
Associazione "Città Costituzione"
Centro Nazionale di Prevenzione e Difesa Sociale (CNPDS)Associazione Cena dell'Amicizia – Onlus
President of the Associazione Avvocati per Niente – Onlus
Associazione per il Progresso economico – APE
Associazione Arbitrando
Honours
Civic Award by Città di Milano "Panettone d'oro" – XV edizione - anno 2014
Languages
English and French
Conferences and publications
Recent conferences
Organized by: Paradigma
Title: le Concessioni e i PPP (Partenariati Pubblico Privati)
Fattispecie legali e risvolti operativi. Strumenti di cooperazione
pubblico - privato
Il subappalto, I soggetti dell'esecuzione
Le variazioni durante il periodo di efficacia
Le vicende estintive
Milano, 8 June 2018
Le forme di partecipazione alla gara e la qualificazione dei concorrenti
Milano, 13 April 2018
Le procedure sopra soglia e le procedure complesse
(appalti misti, appalto integrato, affidamento a contraente generale)
Milano, 9 March 2018
La riforma del Codice antimafia
La documentazione antimafia e i suoi effetti
Gli strumenti per prevenire condizionamenti criminali
Milano, 12 December 2017
Gli arbitrati negli appalti pubblici, caratteristiche e principali criticità
Venezia, 30 November 2017
La prevenzione delle interferenze criminali nei contratti pubblici attraverso ulteriori istituti di diritto amministrativo
Roma, 14 November 2017
La disciplina degli appalti pubblici
Milano, 28 e 29 November 2016
L'applicazione del diritto della concorrenza dell'Unione Europea
Milano, 29 June 2017
Il nuovo Codice di contratti pubblici - Profili civilistici, amministrativi e penali del Subappalto - Il subappalto tra diritto civile e diritto amministrativo - L'indicazione dei subappaltatori nella giurisprudenza del Giudice amministrativo - Il subappalto nel nuovo Codice dei contratti pubblici e nel Correttivo - Subappalto e profili giuslavoristici - Profili di natura penale nel subappalto
Firenze, 27 June 2017
Il Testo Unico delle Società a Partecipazione Pubblica
Milano, April 2017
Ammissioni ed Esclusioni nelle Procedure di Gara
Milano, March 2017 e Roma, April 2017
Publications
Le misure di anticorruzione – commento alla legge 190/2012", Giappichelli, 2013
La prassi dell'arbitrato rituale, Giappichelli, 2012
Concorrenza e Aiuti di Stato – un osservatorio sulla prassi comunitaria, Giappichelli, 2012 e relativa edizione in inglese Competition and State Aid, Kluwer Law International, 2012
Cooperation with the magazine I contratti dello Stato e degli Enti Pubblici, Maggioli