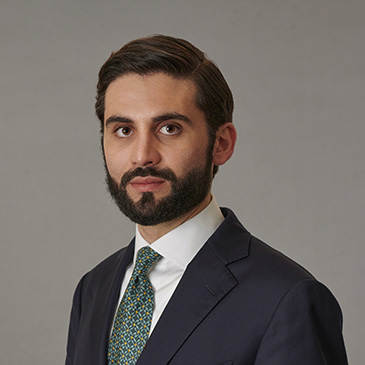 Summary
Position: Lawyer, Associate
Main activities: Lawyer mainly operating in the fields of urban planning and construction
Address: Via Visconti di Modrone 12, 20122 Milano
Email: francesco.naccari.milana@ammlex.it
Telephone: +39 026208161
Fax: +39 0262087927
Lawyer, Associate
Francesco Naccari Milana deals with administrative law. Over the course of his career he has gained specific experience in the fields of construction, urban planning and public contracts, providing judicial assistance and extrajudicial consultancy services in favour of private operators and public bodies. He has also acquired skills in the field of publicly owned companies, environment, public waters and administrative and accounting liabilities.
Professional experience
2021-ongoing Associate - Amministrativisti Associati Studio Legale
Mainly operating in the field of urban planning and construction
2017-2021 Lawyer - Cocco Salomoni Santoro Studio Legale Associato
2017 Trainee - Settore Avvocatura della Città metropolitana di Milano
Education
Francesco Naccari Milana has graduated from the Università Commerciale Luigi Bocconi, with a dissertation on Administrative Law titled "Contratti pubblici e concorrenza: profili sostanziali e processuali", lecturer Chiar.mo Prof. Fabrizio Fracchia.
After qualifying as a lawyer at the Corte d'Appello di Milano, Francesco attended the Scuola di specializzazione in Studi sull'Amministrazione Pubblica (SP.I.S.A.), graduating with honours with a dissertation titled "Convenzioni urbanistiche e obblighi di urbanizzazioni. Strumenti di tutela e questioni irrisolte", lecturer Chiar.mo Prof. Marco Dugato.
2023 Specialization Diploma on Public Administration studies with Alma Mater Studiorum – Università di Bologna
2019 Lawyer - Registration with the Milan Bar Association
2016 Laurea Magistrale a Ciclo Unico in Giurisprudenza with Università Commerciale Luigi Boccon
Languages
English
Conferences
Appalti Pubblici - Insidie e criticità nella presentazione dell'offerta Baveno (VB), settembre 2020
Le responsabilità in cui può incorrere il pubblico dipendente. Profili di responsabilità civile, penale e amministrativo-contabile Milano (MI), novembre-dicembre 2017